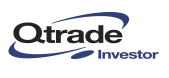 BCU Wealth Management offers a range of investment solutions, including self-directed investing through Qtrade Investor.
If you want to invest your money and manage your investments on your own, you can reduce fees and commissions by setting up a self-directed Qtade Investor account. The Qtrade Investor online trading platform puts you in full control of your investments with tools and resources that will help you make well-informed decisions and invest your money with confidence.
Setting up a Qtrade Investor account is fast and easy. To start investing today go to:
Online brokerage services are offered through Qtrade Investor a division of Credential Qtrade Securities Inc.